Day Trip: Biking the Fred Meijer Berry Junction Trail – June 30, 2013

The forecast was for a cool and sunny Sunday afternoon. It really was not beach weather so we loaded up all of the bikes in the truck and drove north to Muskegon and the trailhead for the Fred Meijer Berry Junction Rail Trail. Our plan was to ride to the end of the 6.8 mile trail and then continue on into Whitehall for a break and an early dinner at Pekadill's Restaurant.
According to the Rails to Trails Conservancy: "The pathway, is built on an inactive section of the Chicago and West Michigan Railroad, and provides an important connection between the communities of Muskegon, Fruitland, Dalton and Whitehall."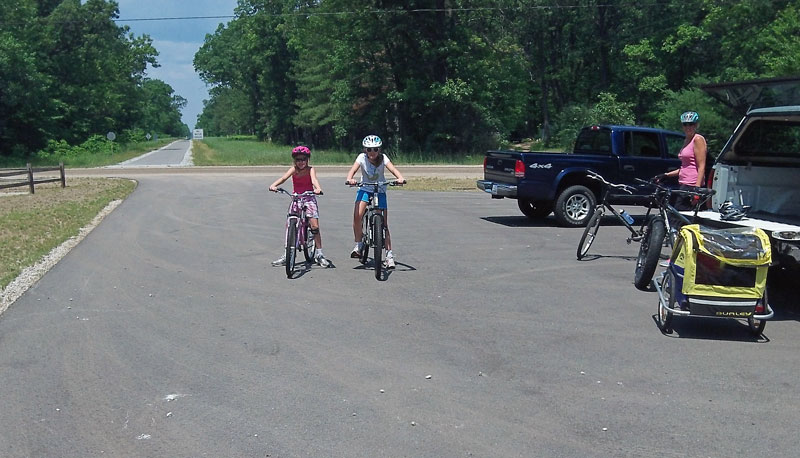 Getting ready to go at the North Muskegon trailhead parking area off from McMillan Road. There are no amenities here so make sure to plan for water and bathroom stops before arriving.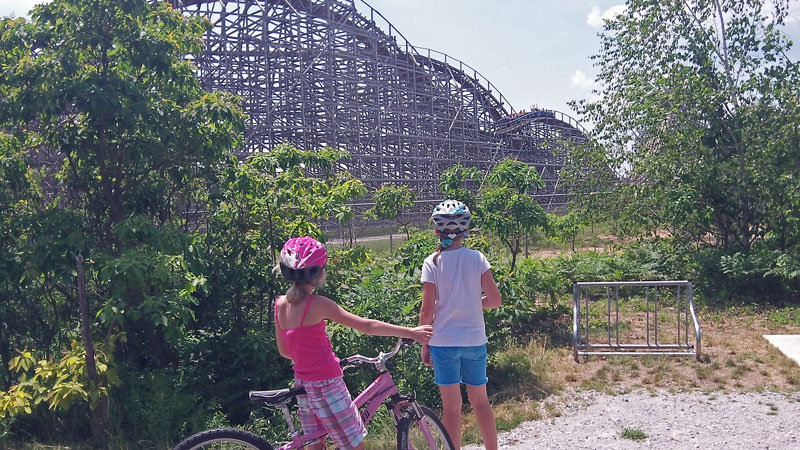 After about 2.25 miles the trail passes by Michigan's Adventure Amusement Park and the end of the Shivering Timbers Roller Coaster. You could actually hear the screams of the passengers before seeing the coaster.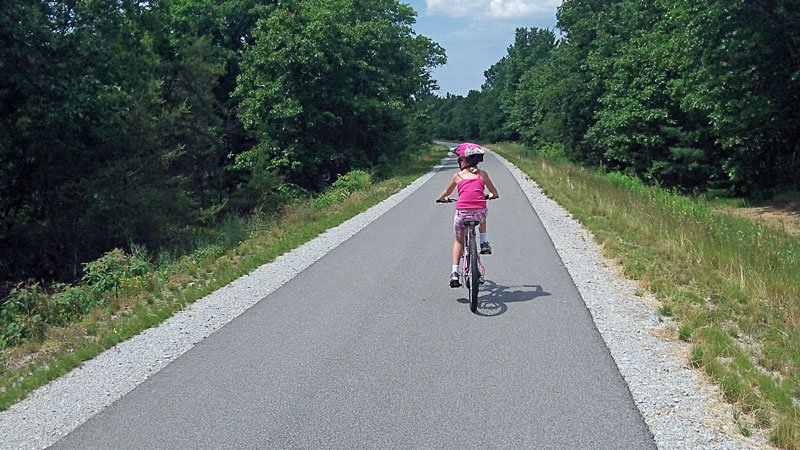 Most of the trail is lined with forest. You occasionally pass a house usually near the road crossings.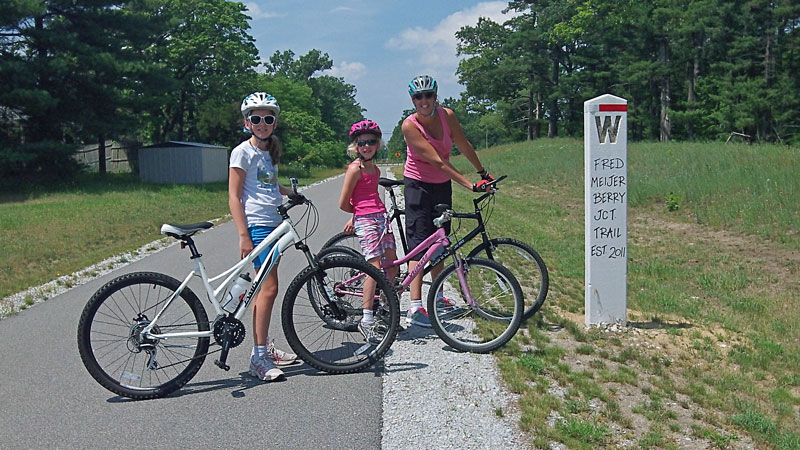 This trail is was just completed back in 2011.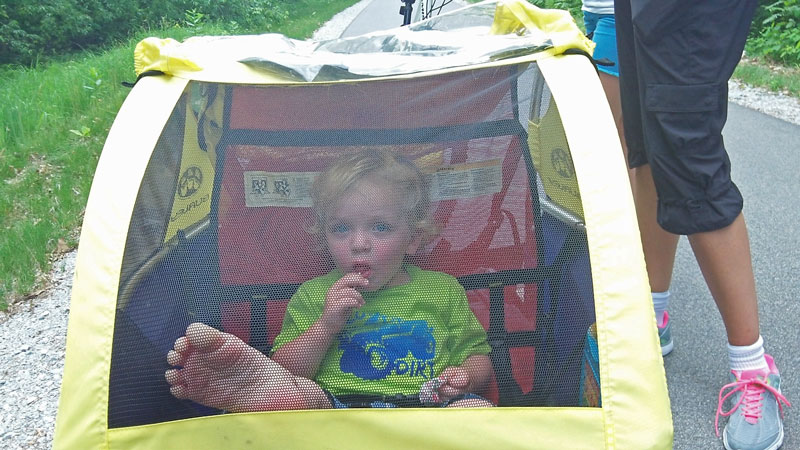 Stopping for a water and sucker break.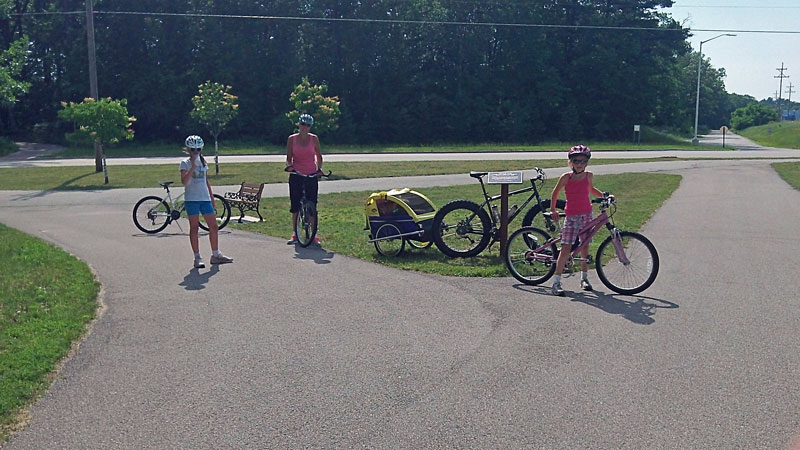 The end of the Berry Junction Trail at White Lake Drive. If you go left here you cross the road and connect with the White Lake Pathway which goes for 3 miles through Whitehall and then connects to the Hart-Montague Trail.
On our way into town we made a mistake and followed the bike path to the right here. It worked out fine and was still a nice ride through the quiet neighborhoods of southern Whitehall.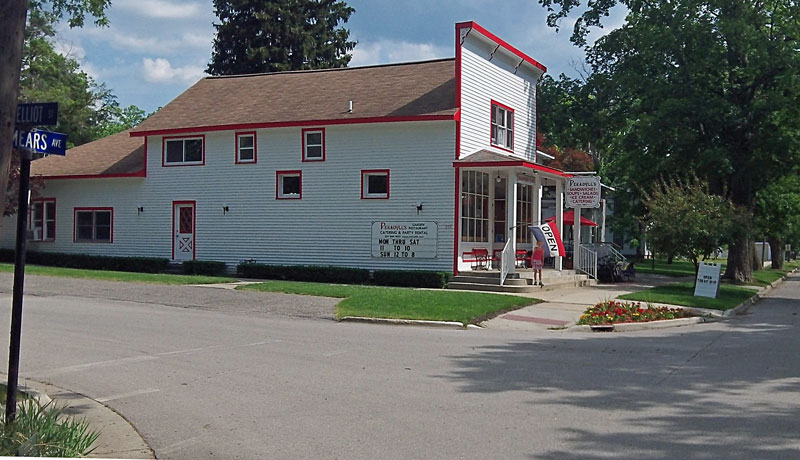 After 9 miles of pedaling we arrived at Pekadill's on the corner of South Mears Ave and Elliot St. Pekadill's was a good find and turned out to be a great little neighborhood sandwich and ice cream shop.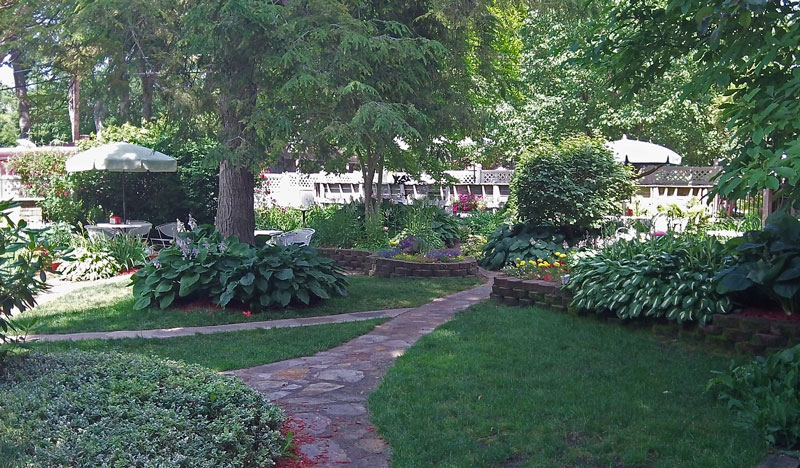 Not only is Pekadill's in a nice old building it also has outdoor seating in a big backyard garden.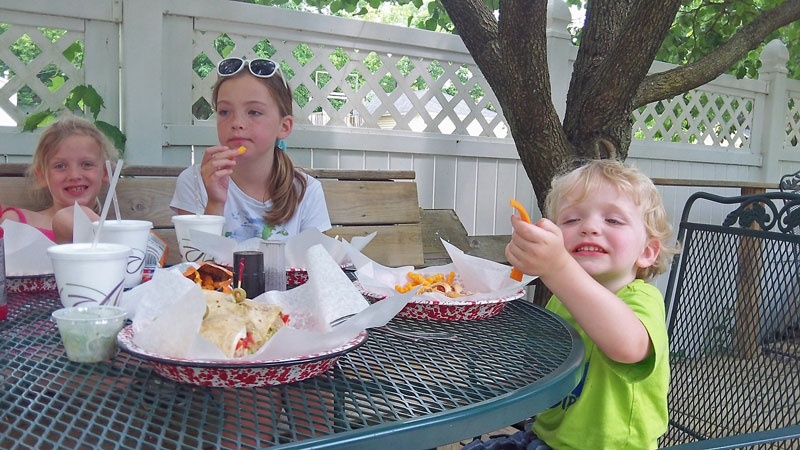 Resting our legs and enjoying an early dinner under a shade tree on the deck.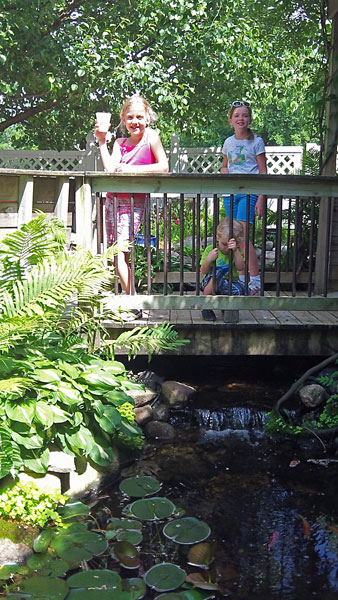 Reid spent most of the time checking out the fish pond.
With a 9 mile ride to get back we decided it would be best to pass on the ice cream this time. After a nice long break we filled our water bottles and headed down the road a couple blocks to find the White Lake Pathway. From here it was about 2 miles back to the Berry Junction Trail
Above is GoPro
time lapse video of our entire trip. Images were taken every 60 seconds and we took turns mounting the camera on our bikes.
The best way to view this route is to click the "View larger map" link and then turn on Bicycling in the menu,
The total trip was 18.6 miles and took about 4 hours, including an hour break at Pekadill's and couple short breaks along the trail on the way back. Our actual moving time on the bikes was just over 2 hours. This was the furthest our girls had ridden and everyone did great and agreed that it was a fun way to spend a Sunday afternoon.
More Information:
The Fred Meijer Berry Junction Trail on Rails to Trail Conservancy
Directions to the North Muskegon trailhead
---
---
Our Favorites:
prAna Zion Stretch Shorts
The prAna Zion Stretch are without a doubt the best shorts I have ever owned. I already have 3 colors and now that they started making them in black I will soon be up to 4. I originally bought them for hiking, but now I wear them for just about everything. Add a liner short
and they become the perfect baggy mountain biking shorts. Need something to wear into town for dinner? No problem.
Find prAna Zion Stretch Shorts on Amazon >>

---
Advertising Disclosure: We may receive a commission if you click a link on our site and purchase one of the products or services that we recommend.