Biking the Musketawa Trail from Raveanna to Conklin, Michigan – June 30, 2012

The Musketawa is a 25 mile paved path that follow an old railroad corridor from Muskegon to Marne. I was looking for a nice section to take the kids on while mom was working for the day on Saturday. After reading my Rail-trails Book I chose the 5 mile section between Raveanna and Conklin. The 10 mile ride was a little longer than the kids normally ride, but I thought as long as we took a good rest in Conklin they would be alright. I also used ice cream from the Conklin Mini Market to help motivate them to keep pedaling.
Video of the highlights from the biking trip.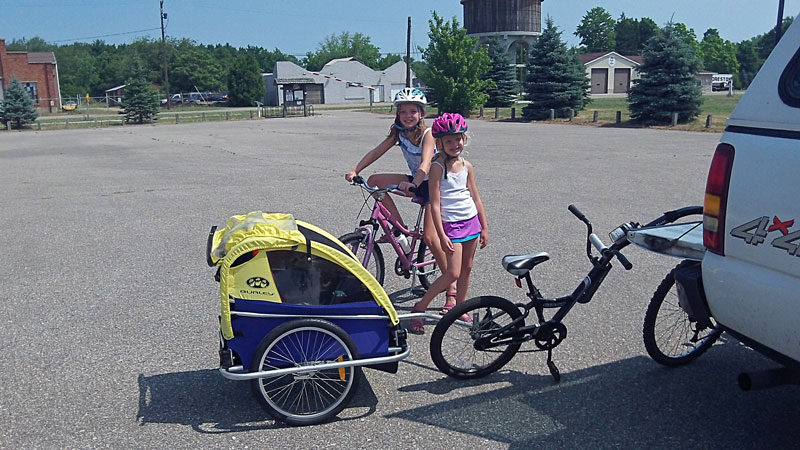 Getting ready to go. The trail head in Raveanna has a nice big parking lot, a couple picnic tables and porta potty. It is located on the corner of Blackmer Rd and Crockery Creek Drive. (43.183901,-85.947002) Map >>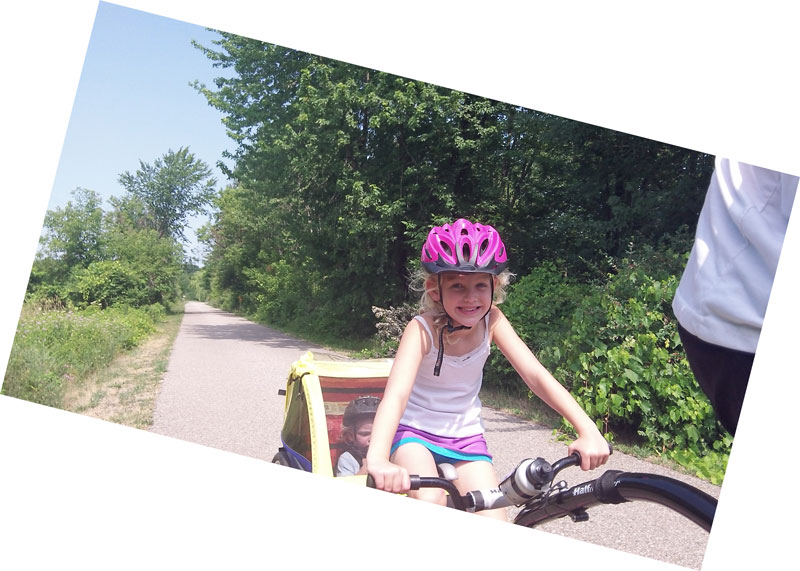 Leaving Raveanna.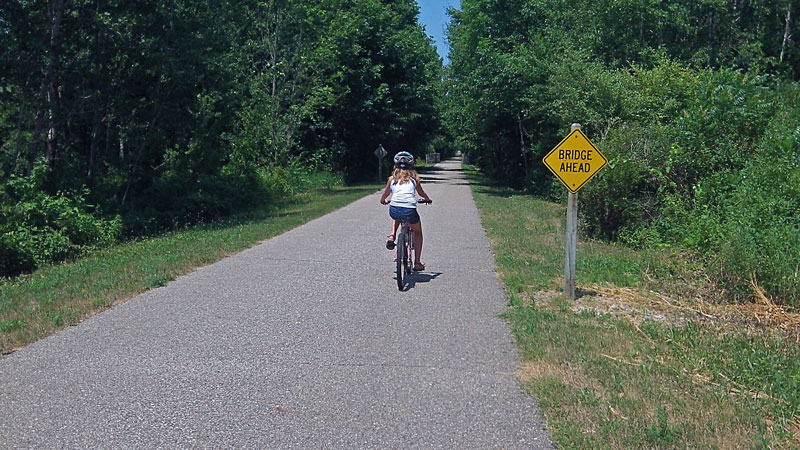 This section of the Musketawa Trail goes mainly through farmland, but most of the way the trail is lined with trees and there were even a few shaded spots.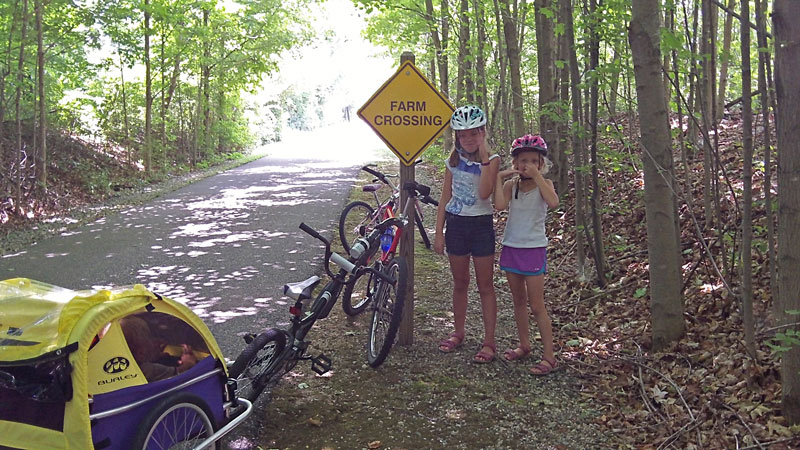 After a couple miles Reid started to yell at us. We stopped to find out why and found that we were going to have to change a stinky pants trailside.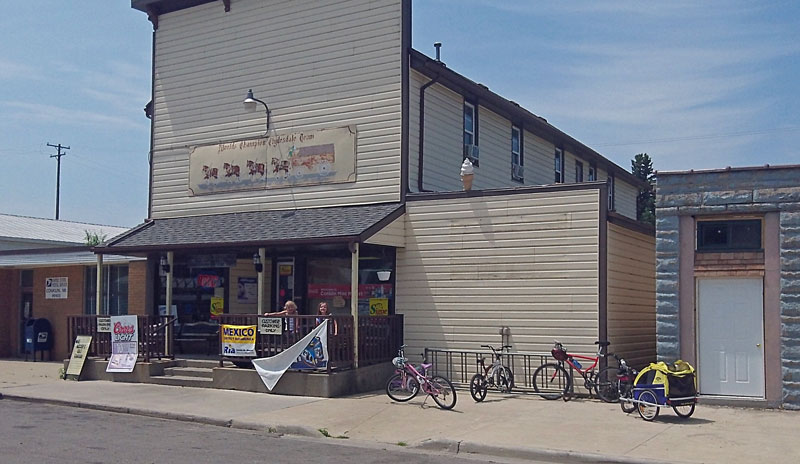 In Conklin we took a break on the front porch of the Conklin Mini Market and ate ice cream and pop sickles. The store has a good selection of drinks, self serve ice cream cones and a small freezer full of other treats. They also have public restroom which is a bonus when traveling with little girls.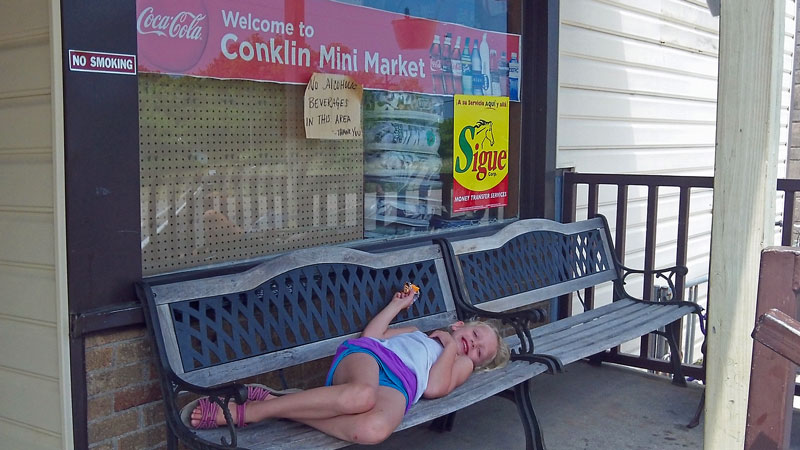 Nap time in front of the Mini Market.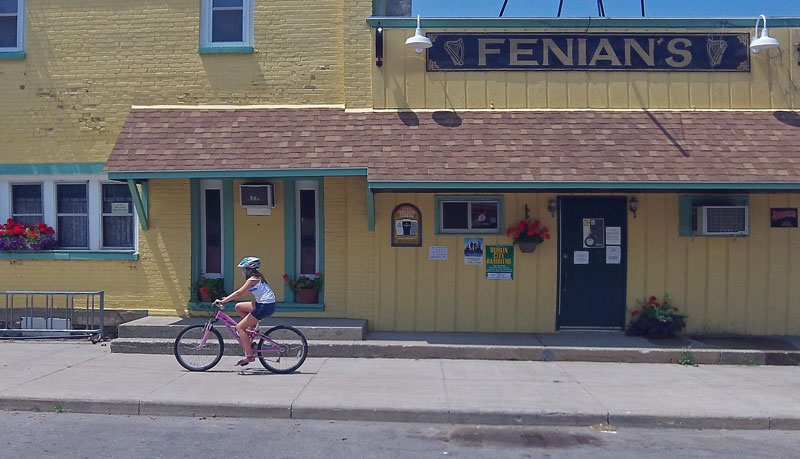 About the only other thing in Conklin that looked interesting is Fenian's Irish Pub. There is also a Musketawa Trailhead with a parking lot and porta potty.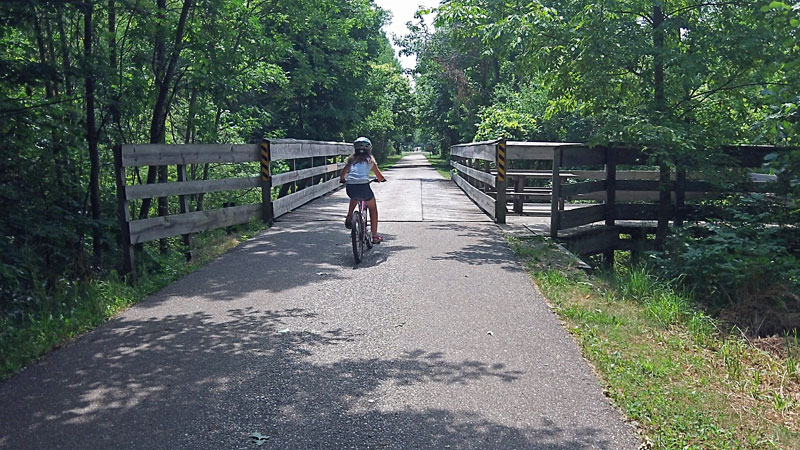 Crossing the bridge on the way back. All of the bridges along this section of the Musketawa Trail had an deck with benches for a rest stop.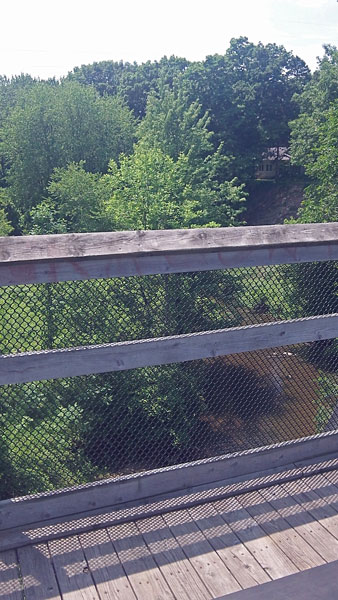 The bridge over the creek in Raveanna.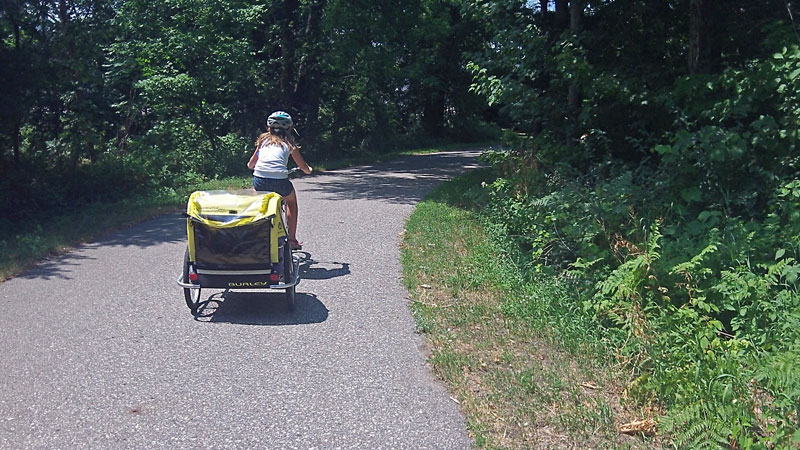 Regan complained the whole way that she wanted to pull the Burley. We hooked to her bike for the last 1/4 mile…she probably will not be asking again.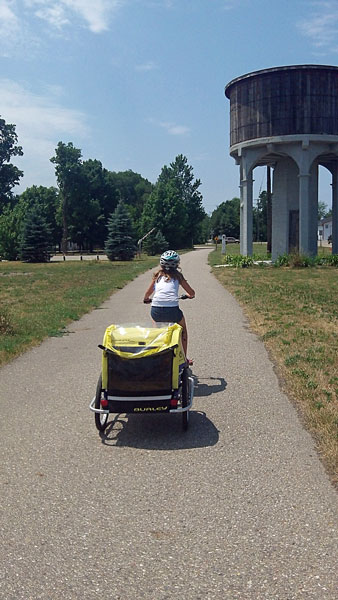 Back to the Raveanna water tower and the end of our ride on the Musketawa Trail. The trip took us around 2 hours to complete.

Find more trails like the Musketawa in: Rail-Trails Midwest Great Lakes: Illinois, Indiana, Michigan, Ohio and Wisconsin
---
---
Our Favorites:
prAna Zion Stretch Shorts
The prAna Zion Stretch are without a doubt the best shorts I have ever owned. I already have 3 colors and now that they started making them in black I will soon be up to 4. I originally bought them for hiking, but now I wear them for just about everything. Add a liner short
and they become the perfect baggy mountain biking shorts. Need something to wear into town for dinner? No problem.
Find prAna Zion Stretch Shorts on Amazon >>

---
Advertising Disclosure: We may receive a commission if you click a link on our site and purchase one of the products or services that we recommend.